HDMI 2.1 vs HDMI 2.0 What is the difference
HDMI 2.1 is HDMI® latest specification. It's support for a higher range of video resolutions and higher refresh rates which include 8K @ 60hz and 4K @ 120Hz with resolutions reaching up to 10k. 
HDMI 2.1 Features:
8K 60Hz and 4k 120hz with up to 10k resolutions. This will improve the details of the image and smooth the viewing experience
Dynamic HDR support: This will enable the image to be displayed in the correct color depths, details and brightness that would be expected in a very high bandwidth, high resolution display. The heavy visual lifting would be done here.
SBTM - Source Based Tony Mapping: Enables the HDR mapping to share some of the visual and graphic heavy lifting. Half the graphic power would be sourced from the source device - instead of the display device.
Ultra High Speed Cables will support 48G bandwidth for uncompressed HDMI 2.1 support. The new cables will also feature lower latency and EMI emission (electromagnetic interference).
eARC will provide a more dynamic and ease of use across all products. It will also support the most advanced formats and the highest quality audio signals.
Enhanced gaming features:  -Variable Refresh Rate (VRR) this will remove the stutter, frame lag, and visual tearing and make for an enhanced and smoother gameplay experience.
Auto Low Latency Mode (ALLM) Chooses the ideal latency protocol automatically to keep the display smooth and uninterrupted.
Quick Frame Transport (QFT) reduces latency for smoother no-lag gaming, and real-time interactive virtual reality. This is going to keep you from getting motion sick while
Quick Media Switching (QMS) for movies and video eliminates the delay that often occurs when a device changes from one HDMI frame rate to another.
HDMI Cable Power enables active HDMI Cables to be powered directly from the HDMI Connector, without attaching a separate power cable. This makes attaching and using active HDMI Cables as easy as using passive, wired HDMI Cables.
---
HDMI 2.0 was the next generation bump from HDMI v1.4. The The upgrade in specifications was significant and the start of a new protocol standard that would dominate televisions every level. The bandwidth was pumped up from 10.2 Gbps to 18 Gbps. This massive bandwidth specification increase ushered in the Ultra HD 4K TVs. The new defacto image resolution became 4K and the ability to offer 4K @ 60Hz (Frames Per Second). This became the must have feature for high quality home videos and computer gaming. The audio quality was also increased significantly for the audiophiles. The 32 audio channels for a deep immersive audio experience.

HDMI 2.0 Specification:
Increases bandwidth to 18Gbps

Resolutions up to 4K@50/60 (2160p), (4 times the clarity of 1080p/60 video resolution)

Up to 32 audio channels

Up to 1536kHz audio sample frequency

Simultaneous delivery of dual video streams to multiple users on the same screen

Simultaneous delivery of multi-stream audio to multiple users (Up to 4)

Support for the wide angle theatrical 21:9 video aspect ratio

Dynamic synchronization of video and audio streams

Updated CEC extensions for more expanded command and control of consumer electronics devices through a single control point

Support for 4:2:0 chroma subsampling

Support for 25 fps 3D formats

Backward compatible with high speed (category 2) HDMI cables
---
HDMI 2.0 vs HDMI 2.1 Compared
HDMI 2.1 effectively handles 4K resolutions much better than the 2.0 standard as the bandwidth availability has been nearly tripled from 18 Gbps to 48 Gbps.. As both HDMI 2.0 and 2.1a handle 4K, now the 2.1a will be 4K @ 120 Hz smoother and more efficiently than ever before.

Max HDR:

The HDMI 2.1a standard goes even further by future proofing the HDR protocol. The High Definition Range will make the visuals be much richer and the full depth of color range truly stand out.

8K to the Moon!

More and more televisions and monitors are being released that support 8K and the demand for higher refresh rates at the higher resolutions is only becoming more vital. HDMI 1.4 supported 4K @ 30 Hz , HDMI 2.0 ushered in the demand for 4K @ 60Hz, and now HDMI 2.1a has upped the ante with the ability to produce 8K @ 60Hz. *Insert the gaming gods drool here.*

HDMI 2.1 hardware requirements:

You are going to need a new HDMI 2.1 enabled device to get the juice you expect and hope for. Although HDMI 2.1 is backwards compatible, you not only need a source device that is HDMI 2.1 ready but you will also need a proper HDMi 2.1 cable that can handle the juice you're about to put through it. So please note that if you have HDMI 2.0 cables or source equipment, you are effectively stuck at that rate of bandwidth until you fully upgrade to 2.1 enabled devices and cables.

Hardcore Gaming:

If 60hz refresh rate is just not cutting it for your noob fragging purposes, HDMI 2.0 may not be the choice for you. The HDMI 2.1 is going to eliminate screen tearing and screen lag which will also improve those of you that are using Virtual reality consoles. HDMI 2.1 will be a must if you are rocking the latest virtual reality equipment.

Crystal Clear Audio for the Audiophiles:

The new ARC - Audio return channel technology that has been upgraded to HDMI 2.1 is going to add much more depth and clean up your audio experience. This is going to be a delightful improvement for the audiophiles that demand the best sound.

Quick Media Switching:

This is going to solve the delays when switching inputs from, gaming console, to your blu-ray player for example. Need those seconds back in your life? You're going to need the HDMI 2.1 for this new feature.

The Future is yours:

HDMI 2.1 is future proof ready. Let's face it, you may not have a demand for all of these new features currently, but as time goes on and more and more devices adopt HDMI 2.1, your not going to want to be left behind
---
HDMI Resolutions By The Numbers
There is a lot of HDMI names and versions that are floating around and it can be confusing to understand what each version's retail names encompass. Not all High Definition models are equal. 
1080p - 4K - 8K Resolutions Compared
Checking out the resolution sizes compared with one another in a layered image will help conceptualize the amount of pixels that are jammed into each resolution size. 1080p will suffice for most modern day needs and expectations but once you see the difference between 1080p vs 4k, you will realize the 4K is going to be worth the upgrade. 4K resolutions are much cleaner and visually pleasing.

If you are looking for dual 4K @ 60hz info you can read more here.

Visual Refresh Rates Compared
This is a great example of the benefit of high refresh rates. The refresh rates are definitively smoother and easier to watch.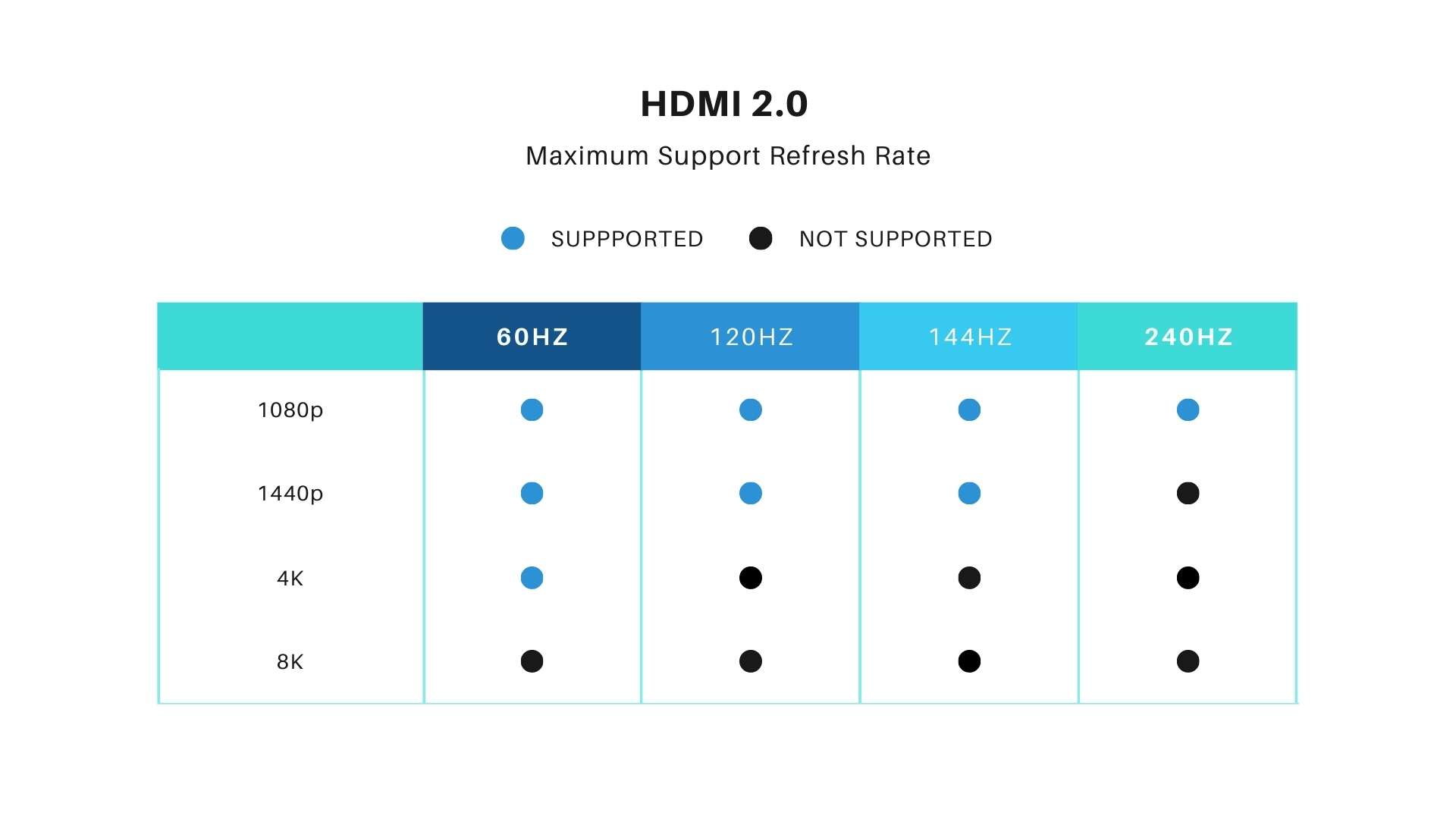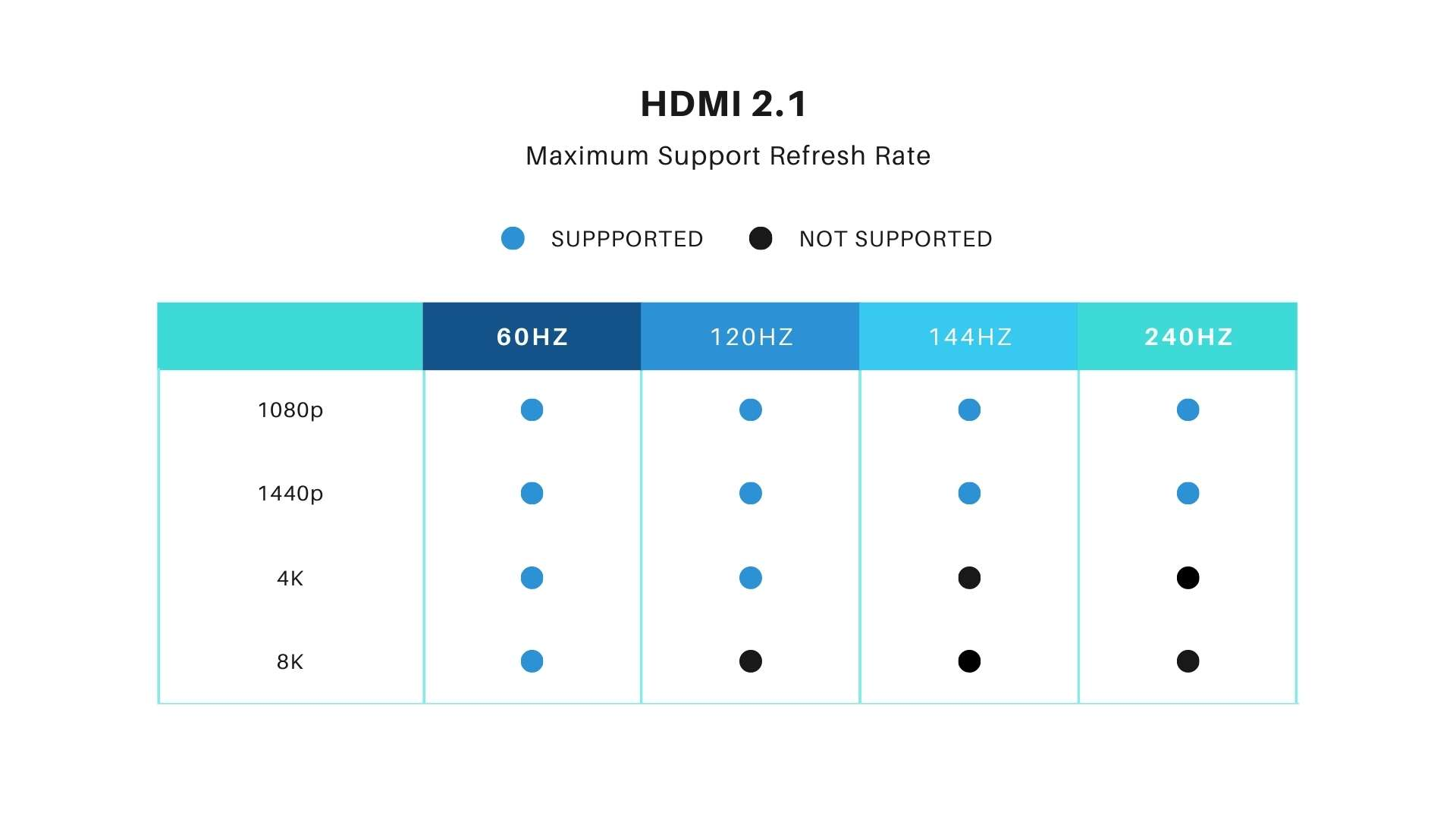 ---
TLDR SECTION: Short answers to common questions.
Will HDMI 2.1 work with HDMI 2.0?
HDMI 2.1 is downwards compatible and will work with your HDMI 2.0 compliant device at HDMI 2.0 specifications.
Short Answer : HDMI 2.1 is going to smooth out some screen tearing that may occur with 2.0 and older devices. It also nearly triples the bandwidth flowing through the cable for a much more in depth visual experience. The sound will also be more complete for the audiophiles at heart.
Is HDMI 2.1 good for virtual reality?
Yes. HDMI 2.1 is very much so gearing towards the new virtual reality devices hitting the market. The gaming consoles such as PS5 are utilizing this brand new technology. Strap in, its going to get real.
Do I need an HDMI 2.1 cable?
You Source device is going to need to be HDMI 2.1 compliant along with your HDMI cable. The new HDMI cables that are 2.1 compliant are ready for all of the extra bandwidth and signals that will be pumping through the system.
---