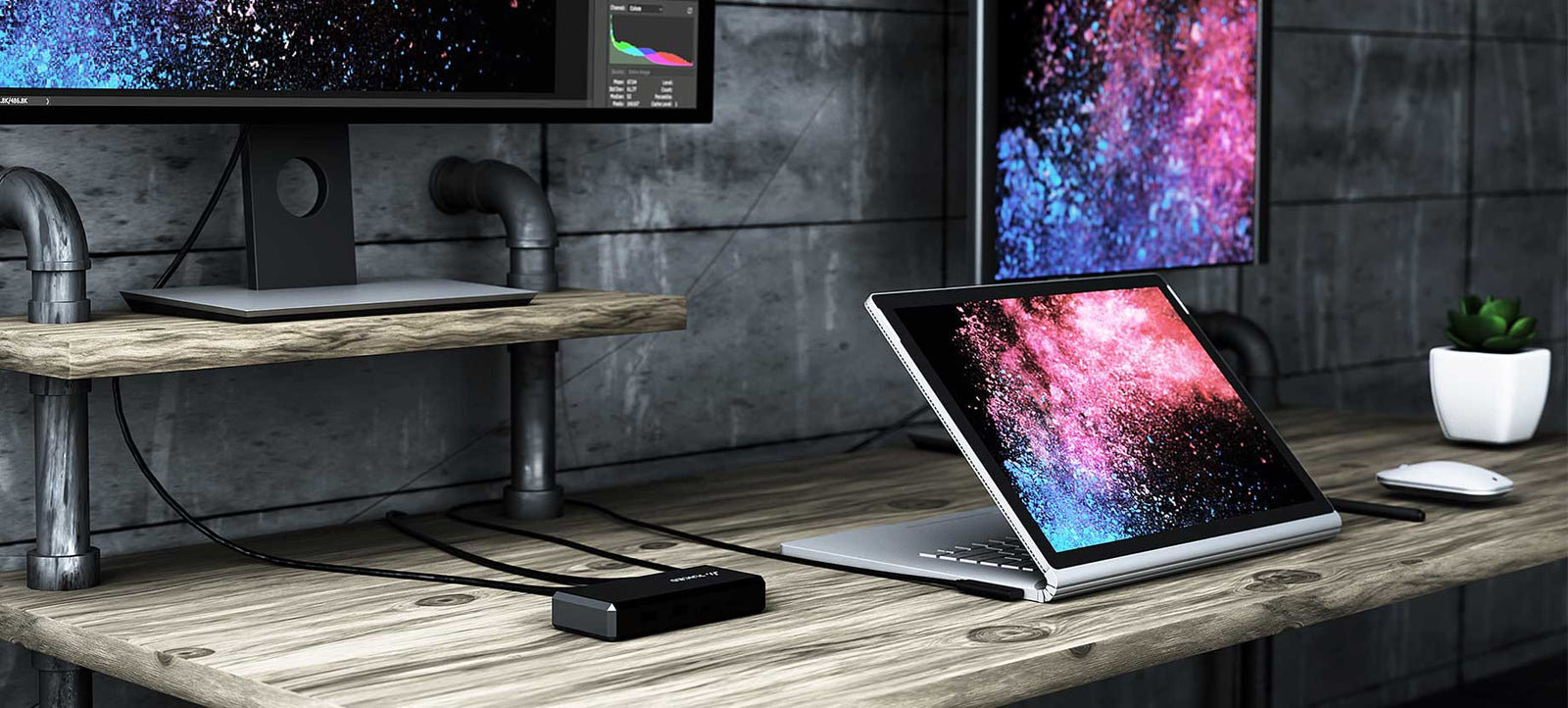 The Surface Book 2 is a versatile 2-in-1 laptop developed by Microsoft, released in 2017. It comes in two display sizes, 13.5-inch and 15-inch, both featuring high-resolution PixelSense™ displays with a 3:2 aspect ratio. Powered by 7th Gen Intel Core i5 or 8th Gen Intel Core i7 processors, the Surface Book 2 offers up to 32 GB of RAM and up to 1 TB of PCIe SSD storage.
Graphics options range from integrated Intel HD or UHD Graphics to dedicated NVIDIA GeForce GTX GPUs, providing smooth performance for various tasks. Running on Windows 10 Pro, the Surface Book 2 has a battery life of up to 17 hours, making it ideal for long work sessions or travel.
The device includes a variety of connectivity options, such as USB-A, USB-C, an SDXC card reader, and Surface Connect, along with Wi-Fi 802.11ac and Bluetooth 4.1. The Surface Book 2 features a detachable design, allowing users to switch between laptop, tablet, and studio modes seamlessly. With its high-quality front-facing stereo speakers, dual cameras, and support for Surface Dial on-screen interaction, the Surface Book 2 provides a premium experience for both productivity and entertainment.
| Specification | Surface Book 2 (13.5-inch) | Surface Book 2 (15-inch) |
| --- | --- | --- |
| Display | 13.5-inch PixelSense™ Display | 15-inch PixelSense™ Display |
| Resolution | 3000 x 2000 (267 PPI) | 3240 x 2160 (260 PPI) |
| Aspect Ratio | 3:2 | 3:2 |
| Processor Options | 7th Gen Intel Core i5 or 8th Gen Intel Core i7 | 8th Gen Intel Core i7 |
| RAM Options | 8 GB, 16 GB, or 32 GB LPDDR3 | 16 GB or 32 GB LPDDR3 |
| Storage Options | 256 GB, 512 GB, or 1 TB PCIe SSD | 256 GB, 512 GB, or 1 TB PCIe SSD |
| Graphics | Intel HD Graphics 620, Intel UHD Graphics 620 or NVIDIA GeForce GTX 1050 (2 GB) | NVIDIA GeForce GTX 1060 (6 GB) |
| Operating System | Windows 10 Pro | Windows 10 Pro |
| Battery Life | Up to 17 hours | Up to 17 hours |
| Connectivity | Wi-Fi 802.11ac, Bluetooth 4.1 | Wi-Fi 802.11ac, Bluetooth 4.1 |
| Ports | 2 x USB-A 3.1, 1 x USB-C, SDXC card reader, 3.5mm headphone jack, Surface Connect, Surface Dial on-screen interaction | 2 x USB-A 3.1, 1 x USB-C, SDXC card reader, 3.5mm headphone jack, Surface Connect, Surface Dial on-screen interaction |
| Camera | 5.0 MP front-facing camera, 8.0 MP rear-facing autofocus camera | 5.0 MP front-facing camera, 8.0 MP rear-facing autofocus camera |
| Audio | Front-facing stereo speakers with Dolby Audio™ Premium, Dual microphones | Front-facing stereo speakers with Dolby Audio™ Premium, Dual microphones |
| Weight | 3.38 - 3.62 lbs (1.534 - 1.642 kg) depending on configuration | 4.2 lbs (1.905 kg) |
| Dimensions | 12.3" x 9.14" x 0.51-0.90" (312 mm x 232 mm x 13-23 mm) | 13.5" x 9.87" x 0.568-0.90" (343 mm x 251 mm x 15-23 mm) |
---