FREE SHIPPING ON ALL DOMESTIC ORDERS
The ZipHUB is designed to handle your everyday needs when working with your Surface Pro 7. A light compact adapter to fulfill all of your port necessities. The ZipHUB features two USB-A 3.0 (5 Gbps) ports. A USB-C data port (5 Gbps) and an ethernet port (10/100) for direct LAN connections. The high resolution HDMI 4K (30Hz) will extend your Surface Pro 7 with an additional monitor. A SD memory input makes camera and file transfers quick and easy. Whether you use your Surface Pro 7 for business or for recreation, the ZipHUB covers all of your essential ports. The USB-C port on the ZipHUB only supports data and will not work with an external monitor or charging. Utilize your surfacelink charger to power your laptop.
The ZipHUB Pro is the latest adapter that Juiced Systems has designed specifically for the Surface Pro 7. The aluminum casing makes this unit perfect for those business trips or remote work spaces. We added only the essential ports without any compromise to performance. HDMI 4K @ 60 Hz, Gigabit Ethernet (10/100/1000), two USB 3.2 Generation 2 ports, and a USB-C port featuring USB 3.2 Gen 2 10 Gbps. Zip through your tasks with the ZipHUB Pro.
HDMI 4K @ 60 Hz
Gigabit Ethernet (10/100/1000)
2x USB-A 3.2 Gen 2 (10 Gbps)
USB-C 3.2 Gen 2 (10 Gbps)
ZipHUB
ZipHUB PRO

1x (5 Gbps) DATA ONLY

NO VIDEO/ NO POWER DELIVERY

1x (10 Gbps) DATA ONLY

NO VIDEO/ NO POWER DELIVERY
Can I charge my SP7 when using the adapter?
No, neither the ZipHUB or the ZipHUB Pro support power delivery through the USB-C port. The USB-C port is a 10 Gbps Data port.
What is the adapter made out of?
Both the ZipHUB and ZipHUB Pro's casing is constructed of aluminum for extra durability.
Does the Surface Pro 7 have a docking station?
Microsoft offers a Surface dock suited for all Surface devices, including Surface Connect, Surface Studio, Surface Go, Surface Pro, and Surface Book 2. Since it's sold separately, you'll have to pay another $200 on top of your Surface unit.
Surface Pro 7 Docking Station
Working with the Microsoft Surface Pro 7 has never been this easy. Shop our selection of docking stations specifically manufactured for your device. Enjoy the all-inclusive benefits of a Surface dock without paying the hefty price.
There's so much your Surface Pro can do with an all-in-one dock. Maximize your device's features with multiple essential ports. Expand your devices capabilities with powerful featured ports such as Gigabit Ethernet port, USB-A and USB-C ports, and HDMI.
About the Surface Pro 7
In October 2019, Microsoft heeded the call for a USB-C port, in addition to the staple USB Type-A port, in the Surface Pro 7. The device can transform from a tablet to a laptop with the help of various additions, such as a kickstand and accessories, which are sold separately.
What's inside this tablet-computer is Intel®'s tenth-generation Core processor, which makes it twice as fast as the sixth-generation Surface Pro. When you opt for the lowest-priced configuration, you get a Core i3 CPU, internal storage of 128 GB, and a RAM of 4 GB.
It's also fast-charging, and one can charge up to 80 percent in an hour. Preloaded with Windows 10 Home, the Surface device is also easily configurable for businesses.
---
---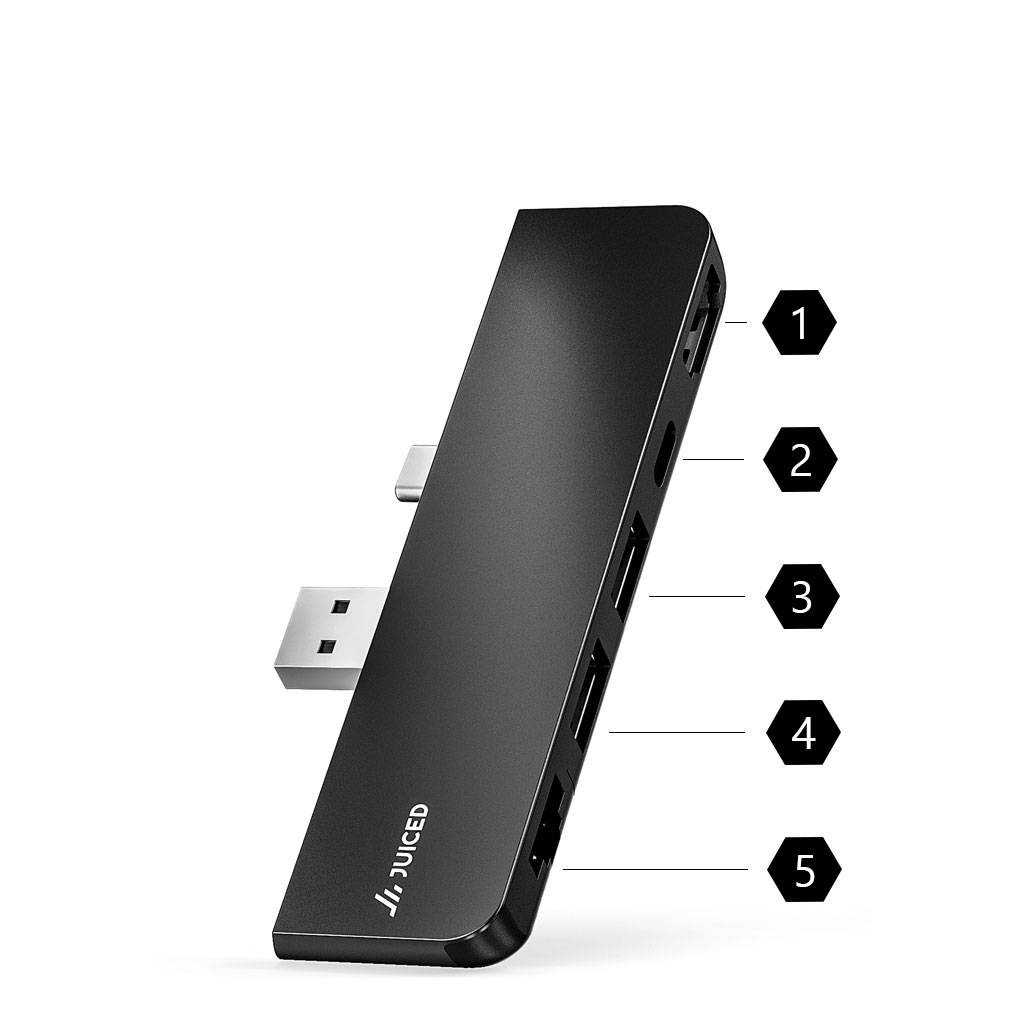 | | |
| --- | --- |
| | ZipHUB |
| | |
| 2. Gigabit Ethernet / Ethernet | |
| | |
| | |
| | 1x (5 Gbps) (No Power Delivery) |
| | |
| | |
Free Domestic Shipping ● Free 30 days return