QuickHUB
For the user on the GO
The Juiced Systems QuickHUB was designed for the Surface Go and Surface Go 2. The QuickHUB is a small compact but powerful adapter giving your Surface Go all of the essential ports you may need while on the GO! Extend your Surface Go display with a 4K HDMI port. The Surface Go USB-C port is available for any USB-C data transfers or charging needs. A USB 3.0 port extends your Surface Go capabilities for any legacy data or peripheral devices you may want to connect to your Surface Go. The AUX port is available for any speaker or headset devices. The QuickHUB is designed to fit the Surface Go perfectly. The QuickHUB keeps you nimble while you're on the move. Change the way you utilize your Surface Go with the extended features the QuickHUB adds. Easily and conveniently transfer data, add wireless devices such as a mouse or full-size keyboard, increase your productivity by extending your display.
---
Specifications

Microsoft Surface Go

Microsoft Surface Go 2

4K HDMI @ 30 Hz

USB 3.0 (5 Gbps)

USB-C (5 Gbps + Power Delivery)

AUX
Can I charge my Surface Go with the USB-C Port?
Yes, you can charge the Surface Go and Surface Go 2 with a proper USB-C cable and charger.
Is this adapter compatible with my Surface Go 2?
Yes, the QuickHUB is compatible with both the original Surface Go as well as the new Surface Go 2.
How fast is the USB-C Port for data?
The USB-C port on the QuickHUB is a standard USB-C 3.2 Generation 1 port, which supports 5 Gbps.
---
Immaculately expand the capabilities of your Microsoft Surface Go | Go 2 devices. The QuickHUB will fit your Surface Go 2 perfectly.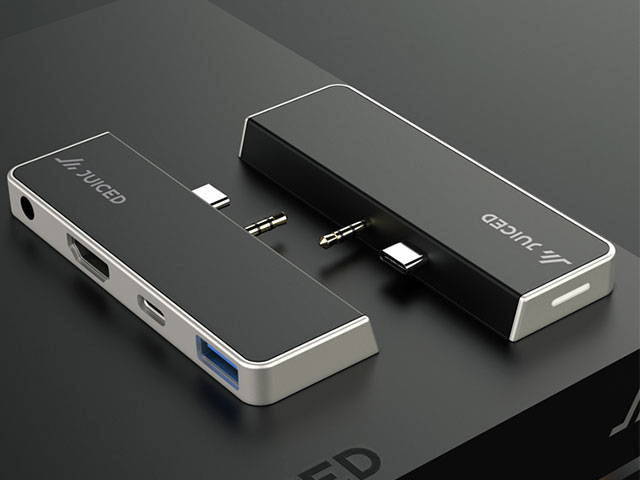 ---
Expand your Surface Go & Surface Go 2 with an external monitor for better productivity. The featured HDMI port supports 4K @ 30 Hz. Change the way you use your Surface Go Tablet.
---
Charge your Surface Go device with the USB-C port. Expand your functionality and be more productive with the QuickHUB.