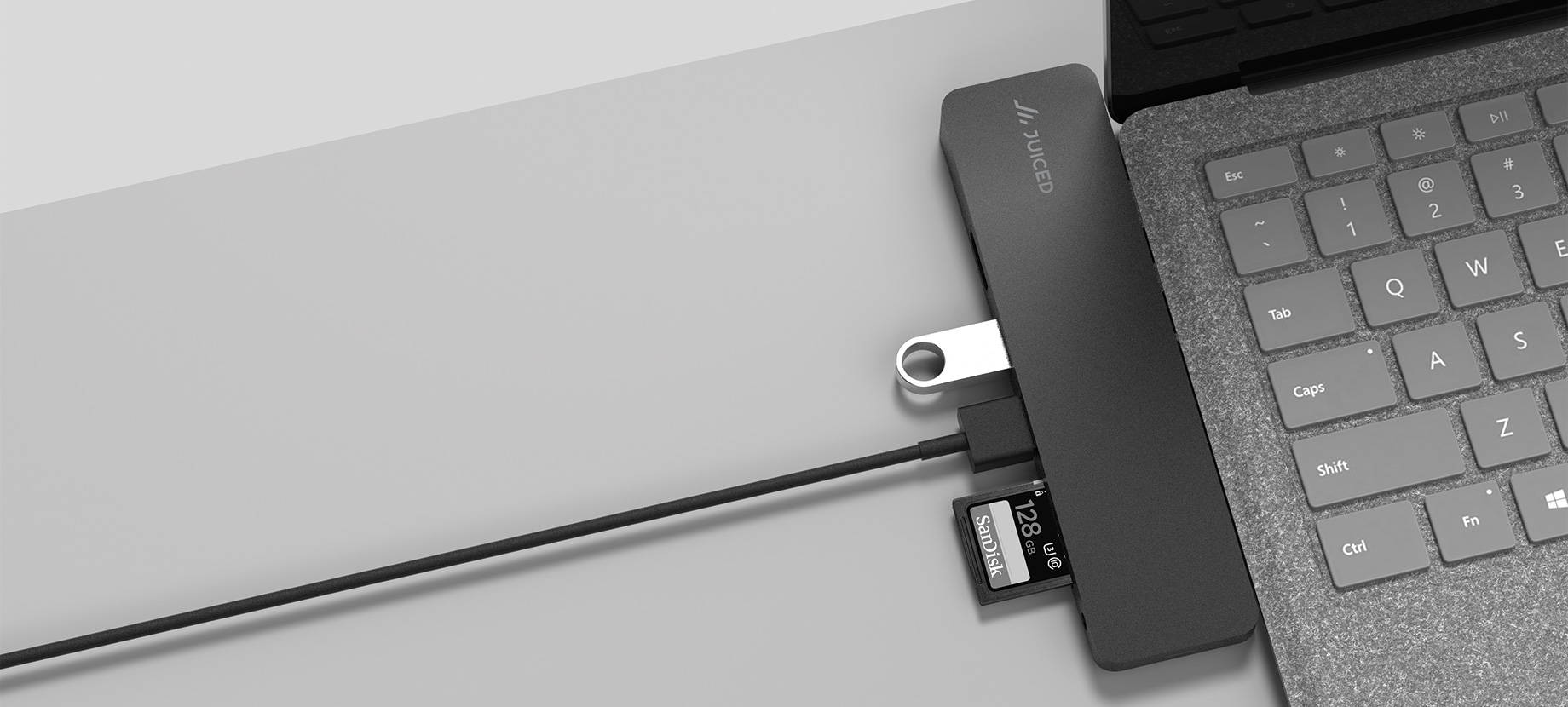 CruzHUB
Your surface laptop just got better.
The Juiced Systems CruzHUB Surface Laptop 2 adapter is the very first adapter designed specifically for the Surface Laptop and Surface Laptop 2. The CruzHUB conforms to the Surface Laptop's body perfectly for an effective and comfortable setup you'll love.
Precision and quality came together in the design of the CruzHUB Surface Laptop 2 adapter. Quickly take your peripherals game to the next level with multi-port connection inputs. Connect an HDMI 4K monitor for additional video output. Two USB 3.0 ports conveniently expand multiple peripheral options at 5 Gbps transfer speeds.
SD and Micro SD memory inputs give you quick memory card reading and writing. No ports or features are compromised with the extended audio auxiliary input. The Gigabit Ethernet (10/100/1000) WAN line delivers superior speeds.
The CruzHUB Surface Laptop 2 Adapter redefines how you use your laptop. Whether you're home or on the go, the CruzHUB keeps you mobile and efficient at all times.
Tech Specs

2x USB-A (5 Gbps)

HDMI 4K (30hz)

Gigabit Ethernet (10/100/1000)

SD (3.0)

Micro SD (3.0)

AUX

Microsoft Surface Laptop

Microsoft Surface Laptop 2

CruzHUB

Neoprene Travel Case
Does this adapter fit the Surface Laptop 1?
The CruzHUB fits both the Surface Laptop 1 and 2 perfectly. There is no structural difference between the two models.
What is the actual size of the hub?
How fast are the USB ports?
The USB ports are both USB 3.0 (5Gbps)
Does the hub need drivers?
No, the hub is plug n play ready. Your operating system will usually install any drivers it may be missing if needed.
---
Designed for Surface Laptop
Conveniently add all of the essential peripheral ports you need in one simple rugged adapter.
Enjoy crystal clear 4K resolutions. Extend your laptops screen to a full resolution 4K monitor. Add more productivity to your workstation with an additional monitor.
Stop bad wifi dead zones from keeping you online and lag free. Direct connect your laptop to a full featured Gigabit Ethernet port (10/100/1000).
---