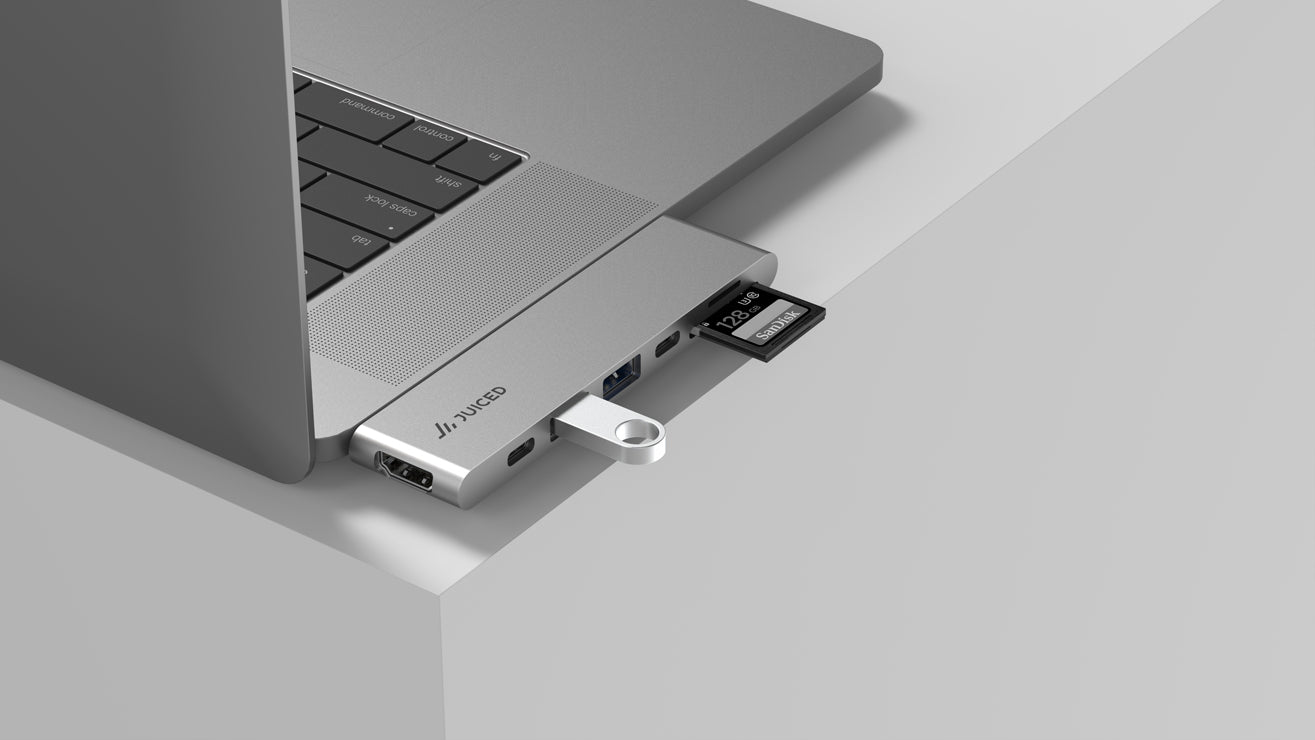 Unleashing the Full Potential of Your MacBook Pro
Elevate your MacBook Pro experience to new heights with Juiced Systems' state-of-the-art adapters. As a leading name in the industry, we specialize in providing exceptional, high-quality MacBook Pro adapters to enhance your device's performance and expand its capabilities. Discover the perfect adapter to meet your needs, whether it's for seamless connectivity at home or in the workplace.
A Wide Array of MacBook Pro Adapters for Every Need
Our diverse range of MacBook Pro USB adapters offers the perfect solution for connecting all types of peripherals. You can count on the following options for optimal compatibility and convenience:
All-in-One Adapters: Choose from our versatile MacBook Pro adapters that support USB, USB-C, HDMI, and VGA connections, complete with high power delivery ports for maximum efficiency.

Tailored Adapters: Find the ideal MacBook Pro adapter to cater to your unique requirements, such as USB to HDMI converters, ensuring seamless integration with your chosen peripherals.
With Juiced Systems, you can trust that you'll find the exact adapter to connect your peripherals effortlessly, regardless of their interface type.
Experience Lightning-Fast Data Delivery and Enhanced Performance
Our cutting-edge MacBook Pro adapters not only provide you with an extensive range of connectivity options but also deliver unparalleled data transfer speeds to support even the most demanding tasks. Designed with performance and functionality in mind, our adapters enable you to unlock your MacBook Pro's full potential.
Innovative and Trendsetting Adapters from Juiced Systems
Here at Juiced Systems, we pride ourselves on offering only the most advanced and forward-thinking MacBook Pro adapters on the market. By choosing our products, you'll enjoy an enhanced computing experience that sets new standards in performance and versatility. Experience the difference with Juiced Systems and take your MacBook Pro to the next level today.
| Model | Display | Processor | Graphics | RAM | Storage | Battery Life | Weight | Price |
| --- | --- | --- | --- | --- | --- | --- | --- | --- |
| MacBook Pro 13" M1 | 13.3" Retina | Apple M1 8-core CPU, 8-core GPU | Integrated 8-core GPU | 8/16 GB | 256GB-2TB | Up to 20 hrs | 2.8 lbs | $1,299+ |
| MacBook Pro 14" M2 | 14.2" Liquid Retina XDR | Apple M2 10-core CPU, 16-core GPU | Integrated 16-core GPU | 16/32 GB | 512GB-4TB | Up to 21 hrs | 3.5 lbs | $1,999+ |
| MacBook Pro 16" M2 | 16.2" Liquid Retina XDR | Apple M2 10-core CPU, 16-core GPU | Integrated 16-core GPU | 16/32 GB | 512GB-4TB | Up to 21 hrs | 4.7 lbs | $2,499+ |
| MacBook Pro 14" M2 Max | 14.2" Liquid Retina XDR | Apple M2 Max 12-core CPU, 32-core GPU | Integrated 32-core GPU | 32/64 GB | 1TB-8TB | Up to 20 hrs | 3.6 lbs | $2,799+ |
| MacBook Pro 16" M2 Max | 16.2" Liquid Retina XDR | Apple M2 Max 12-core CPU, 32-core GPU | Integrated 32-core GPU | 32/64 GB | 1TB-8TB | Up to 20 hrs | 4.8 lbs | $3,499+ |