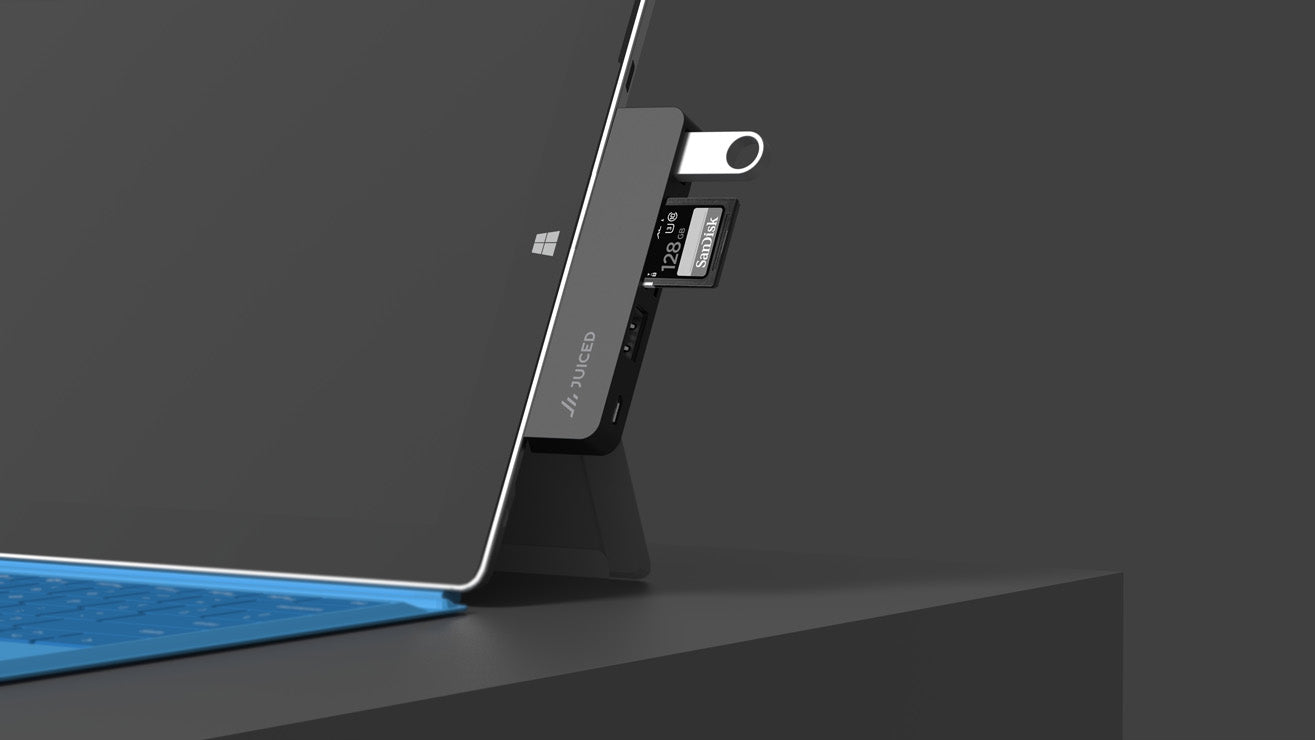 Revolutionize Your Surface 3 Experience
Since its debut in May 2015, the Surface 3 has been a game-changer in the world of portable computing. With a full operating system (Windows 8.1 or Windows 10) and an x86 Intel® Quad Core Atom processor, this versatile device transcends the limitations of traditional tablets. Equipped with a 10-point touch-screen display, kickstand, stylus support (Surface Pen), and a keyboard-compatible protective cover (Type Cover), Surface 3 truly offers the best of both worlds - tablet convenience and laptop functionality. But did you know that you can unlock even more potential with the right USB hub?
Enhance Connectivity with the Juiced Systems Surface 3 USB Hub
Introducing the Juiced Systems 5-in-1 adapter, the first-ever multi-port adapter designed exclusively for the Surface 3, 10.8-inch screen non-pro tablet. This compact, travel-friendly hub delivers remarkable power and capabilities, transforming your Surface 3 experience.
Expanded Port Options for Seamless Integration
The Juiced Systems Surface 3 USB hub features multiple ports to facilitate seamless connectivity with a variety of peripherals. With USB ports, SD and Micro SD inputs, you can effortlessly connect devices and rapidly transfer data between them, ensuring a smooth workflow, whether you're at home, in the office, or on the go.
Simultaneous Charging and Usage with Pass-Through Charging Technology
With our exclusive pass-through charging technology, the Juiced Systems Surface 3 USB hub allows you to charge your device and use it simultaneously. This innovative feature ensures that you never have to worry about running out of battery life while working on important tasks, streaming media, or gaming.
A Trusted Microsoft Surface Product Creator
As a dedicated Microsoft Surface product creator since the inception of the Surface lineup, Juiced Systems understands the needs of Surface users. Our Surface 3 USB hub is designed to cater to the unique requirements of Surface 3 owners, offering unmatched functionality and power in a compact package.
Perfect for On-the-Go, Home, and Office Use
Whether you're a frequent traveler, a home office enthusiast, or a busy professional, the Juiced Systems Surface 3 USB hub is the ultimate accessory for you. Its sleek design and versatile features make it the perfect companion for your Surface 3, enhancing its capabilities and making it even more powerful.
Elevate Your Surface 3 Experience with the Juiced Systems USB Hub
In summary, the Juiced Systems Surface 3 USB hub is an indispensable tool for unlocking the full potential of your Surface 3. With its expanded port options, pass-through charging technology, and travel-friendly design, this adapter will revolutionize your Surface 3 experience. Don't settle for less - elevate your device's capabilities and power with the ultimate USB hub from Juiced Systems.
Microsoft Surface 3 Specifications
| Specification | Details |
| --- | --- |
| Release Date | May 2015 |
| Operating System | Windows 8.1 or Windows 10 |
| Processor | Intel® Quad Core Atom x86 |
| Display | 10.8-inch, 10-point touch-screen |
| Stylus Support | Surface Pen |
| Keyboard and Protective Cover | Type Cover |
| Ports | USB, Mini DisplayPort, Headset Jack |