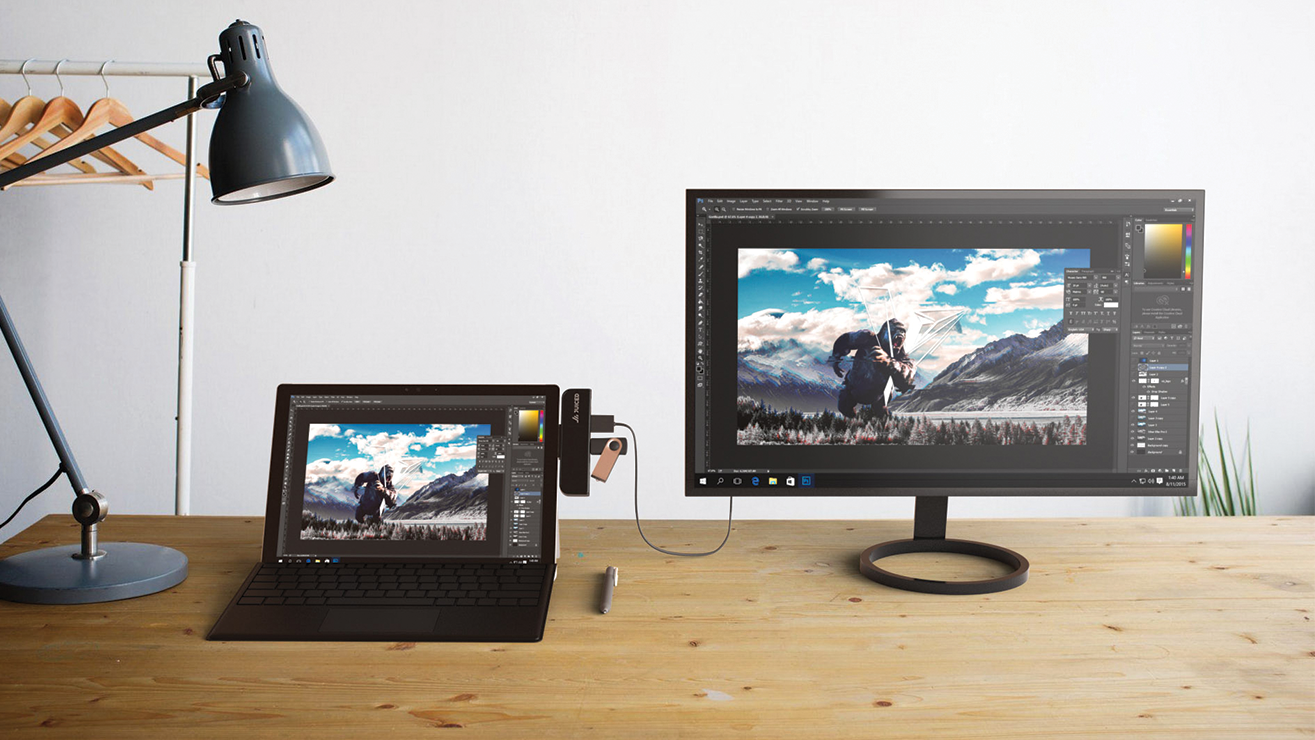 Introduction: The Surface Pro 2017 - Unofficially the Surface Pro 5
Although the Microsoft Surface lineup doesn't officially have a "Surface Pro 5," there is a fifth-generation Surface Pro released in 2017 that many consider to be its equivalent. This device, often referred to as the Surface Pro 2017, boasts a variety of improvements and features that set it apart from its predecessors. In this article, we will delve into the specifications, design, and performance of the Surface Pro 2017, as well as explore some of the best accessories to elevate your experience.
Sleek Design and Enhanced Usability: A Closer Look at the Surface Pro 2017
The Surface Pro 2017 sports a sleek design with rounded edges, making it more comfortable to hold and use. The deeper hinge and more flexible kickstand enable users to lay the device flatter, offering greater versatility in usage scenarios. Whether you're working at a desk or sketching on the go, the Surface Pro 2017 is designed to adapt to your needs.
Powerful Performance: Intel® Core Processors and Efficient Cooling
The Surface Pro 2017 features Intel® Core seventh-generation m3, i5, and i7 processors, all of which boast higher clock speeds than those in the Surface Pro 4. The base configuration offers a Core m3 processor with 128 GB of internal storage and 4 GB of RAM. The Core m3 and i5 CPU options are also fanless, resulting in a quieter and more energy-efficient device.
Impressive Battery Life: Stay Powered Up Throughout the Day
With the Windows 10 operating system, the Surface Pro 2017 promises up to 13.5 hours of battery life for regular models and up to 12.5 hours for the LTE Advanced model. This impressive battery performance allows you to stay productive and connected throughout the day without needing to constantly search for a power outlet.
Enhancing the Surface Pro Experience: Docking Stations and Adapters
The Surface Pro 2017 experience can be further enhanced with the addition of laptop adapters and docking stations. These accessories provide essential ports and features, allowing you to connect additional peripherals and expand your device's capabilities. Transform the way you work and play by incorporating these essential accessories into your Surface Pro 2017 setup.
Conclusion: The Surface Pro 2017 - A Worthy Successor
While it may not officially be called the Surface Pro 5, the Surface Pro 2017 certainly lives up to its unofficial moniker. With its sleek design, powerful performance, impressive battery life, and compatibility with an array of accessories, the Surface Pro 2017 is a worthy successor to the Surface Pro 4. If you're looking for a versatile and powerful device that can adapt to your needs, the Surface Pro 2017 is a top contender.
Specifications

Category

Two-in-one detachable PC with the following CPU options:

Intel® 7th-gen Core m3
Intel® 7th-gen Core i5
Intel® 7th-gen Core i7

Memory

4 GB, 8 GB, or 16 GB

Internal Storage

128 GB to 1 TB

Battery Life

Up to 12.5 hours (with LTE Advanced) to 13.5 hours (Wi-Fi) of video playback

Weight

1.69 lb. (m3), 1.70 lb. (i5), 1.73 lb. (i7), 812 grams (i5 with 4G) 

Dimensions

11.5" by 7.9" by 0.33"

Display

12.3 inches with a 3:2 aspect ratio and a 2736 × 1824 resolution

Ports

 

USB 3.0 port
MicroSDXC card reader
Surface Connector port
Mini DisplayPort
3.5 mm headphone jack
Type Cover port
---